MyTechFun.com
3D printed corner guards v2 (flex filament)
Title: 3D printed corner guards v2 (flex filament). Watch on youtube: https://youtu.be/SvOyBH_81u0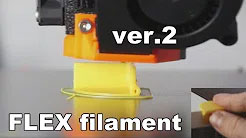 Tags: 3dprint, corner guard, v2, flex filament, baby safety, product design,
In my previous video I present the process of design and 3D print universal baby corner protector. But in this video will show you the new, improved version. New design has hole (channel) inside the object. This is something what can not be done with classic injection molding, but with 3D printing we have more freedom.
My previous video with custom corner protector:
https://youtu.be/SvOyBH_81u0
If you want to experiment with same file, you can download STL file below this text.
---
Download files:
---
© 2019
+
mytechfun.com |
Terms of Use