MyTechFun.com
Sovol resin vat review: anodized aluminum, teflon surface and installing magnetic flexible plate
Title: Sovol resin vat review: anodized aluminum, teflon surface and installing magnetic flexible plate. Watch on youtube: https://youtu.be/pK-F5z84DK0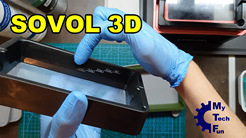 Tags: 3dprint, sovol, sla 3d printing,
Sovol 3D company send me two resin vats (tanks) for the review: first one is anodized aluminum the other is with teflon surface. They also included the magnetic flexible plate for easier removing of the objects. Installation of the magnetic plate will be presented in this video on Elegoo Mars printer.
Since for SLA 3D printing I am using a printing service from my colleague Csongor, the original plan was to visit him in his workshop and do the review together. But in the meantime, my oldest daughter got the Covid, so my whole family is in quarantine two weeks. I asked Csongor to do this review alone, and I will narrate it in English.
Product links (not affiliate):
https://sovol3d.com/products/resin-vat
https://sovol3d.com/products/teflon-resin-vat
https://sovol3d.com/products/magnetic-resin-flexi-plate
Support my work:
https://www.buymeacoffee.com/mytechfun
https://www.patreon.com/mytechfun
https://www.mytechfun.com/donation
Contents:
0:00 Introduction
0:58 Resin vat review
10:43 Installing the magnetic flexible plate
15:46 Conclusions
#resinvat #sovol #sla3dprinting
---
Download files:
No downloadable files for this video.
---
© 2019
+
mytechfun.com |
Terms of Use