MyTechFun.com
Prusa Tough Resin vs ELEGOO Water Washable Resin - mechanical tests
Title: Prusa Tough Resin vs ELEGOO Water Washable Resin - mechanical tests. Watch on youtube: https://youtu.be/oeVdyAMDTHI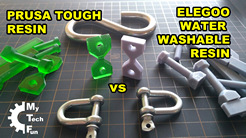 Tags: 3dprint, prusa, elegoo, sla 3d printing, strength test, material test,
In this video test I am testing Prusa Tough Resin vs Elegoo water washable rapid resin from mechanical strength aspect. Why these materials? The test specimens are sent to me by my viewers for testing. Prusa test objects are sent by Samuel from Slovakia (printed on Prusa SL1) and Elegoo test materials are from Csongor from Hungary (printed on Elegoo Mars).
Support my work:
https://www.buymeacoffee.com/mytechfun
https://www.patreon.com/mytechfun
https://www.mytechfun.com/donation
Results can be downloaded in PDF file below this text.
Other videos related to SLA 3D printing:
https://www.mytechfun.com/videos/sla_3d_printing
Link to used resins (not affiliate)
https://shop.prusa3d.com/en/48-tough
https://www.elegoo.com/products/elegoo-water-washable-resin
Contents:
0:00 Introduction
1:19 Closer look
2:43 Tensile test
3:35 Shear test
4:29 Bending test
5:04 Impact test
6:29 Twist test (torque)
7:58 Conclusions
#prusaresin #elegooresin #sla3dprinting
---
Download files:
---
© 2019
+
mytechfun.com |
Terms of Use