MyTechFun.com
UNI-T UTi260B affordable thermal camera for 3D printing enthusiasts (review, unboxing, samples)
Title: UNI-T UTi260B affordable thermal camera for 3D printing enthusiasts (review, unboxing, samples). Watch on youtube: https://youtu.be/D4_-jvkq9Ps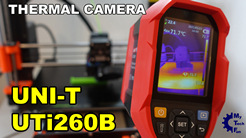 Tags: thermal camera, unboxing, review, tools,
UNI-T UTi260B thermal camera is one of the best in its price range with thermal resolution of 256x192. In this video I will talk about the specifications and reasons why I chose this infrared camera. After this I will do the unboxing and the review. In last part I will try to find some practical usage for this camera not only in 3D printing, but in everyday life.
Check the price on Banggood (affiliate link):
https://www.banggood.com/custlink/v3KYa6SJiN
Do you like my work? Buy me a coffee:
https://www.buymeacoffee.com/mytechfun
Other support methods:
https://www.patreon.com/mytechfun
https://www.mytechfun.com/donation
Contents:
0:00 Introduction
1:12 Specifications
2:54 Unboxing
5:33 Review
12:33 Live Screen
13:23 Samples
21:09 Conclusions
#thermalcamera #3dprinting #ircamera
---
Download files:
No downloadable files for this video.
---
© 2019
+
mytechfun.com |
Terms of Use