MyTechFun.com
Two Trees - Totem S 40W (5.5W) laser engraver unboxing, assembly, review
Title: Two Trees - Totem S 40W (5.5W) laser engraver unboxing, assembly, review. Watch on youtube: https://youtu.be/vn0S5NvzfFw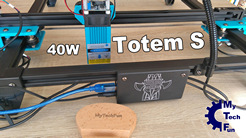 Tags: laser engraving, laser cutting, twotrees, review, unboxing,
Totem S by Two Trees is 40W laser engraver and cutter with 5.5W laser power. This machine has new silent mainboard and two stepper motors on Y axis. The most useful improvement is the setting the focus of the laser using adjusting screw which move the module on the linear rail. In this video you can find unboxing, assembling, setting the LaserGRBL and some test engraving and cutting.
Buy it on Banggood:
https://www.banggood.com/custlink/KvmRLbsPcb
Info on Two Trees website:
https://twotrees3dprinter.com/#/app/productxq/111
Support my work:
https://www.buymeacoffee.com/mytechfun
https://www.patreon.com/mytechfun
https://www.mytechfun.com/donation
Contents:
0:00 Introduction
2:11 Unboxing
4:44 Assembling
21:26 Preparing the LaserGRBL
23:50 Engraving
27:31 Cutting
31:00 Conclusions
#twotrees #totems #laserengraving
---
Download files:
No downloadable files for this video.
---
© 2019
+
mytechfun.com |
Terms of Use