MyTechFun.com
Creality Sermoon D1 - the most elegant 3D printer - unboxing, review, first prints
Title: Creality Sermoon D1 - the most elegant 3D printer - unboxing, review, first prints. Watch on youtube: https://youtu.be/xe59s8xgrX8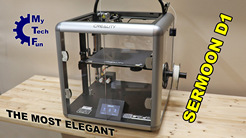 Tags: 3dprint, creality, sermoon, review, unboxing,
Creality Sermoon D1 is the most elegant 3D printer I ever meet, it is a real peace of art with some space for improvements. Sermoon D1 is a cubic frame cartesian 3D printer partly enclosed (open only on top). It has direct drive metallic extruder which moves on linear rods (on X and Y axis). From some reason they did not used silent stepper motor drivers on Z axis which moves on V-slot wheels. Touch screen is the best so far I evers seen on 3D printer. Overall, 3D printer with premium design.
3D printer is provided by creality3D.shop for a review:
Creality3D - https://bit.ly/3u595KI
Sermoon D1 - https://bit.ly/3sZUNto
10% Off For Sermoon D1 - TechFunD1
Mentioned in the video:
UNI-T thermal camera:
https://www.banggood.com/custlink/v3KYa6SJiN
Bed leveling explained in 2D
https://youtu.be/gyKtsuhO4Uk?t=1522
Other review videos:
https://www.mytechfun.com/videos/review
Contents:
0:00 Introduction
2:04 Unboxing
5:12 Assembling
17:29 Replacing broken Z limit switch
21:42 Bed leveling
25:24 Touch scree, UI
26:59 Preparing the 3D printing
28:11 Contents of the SD Card
29:11 Adding Sermoon D1 to Cura
30:08 Calibration cube
33:14 Removing glass bed
33:48 Benchy (PLA)
35:38 Flex filament (TPU)
39:06 Power consumption
39:59 Sermoon through thermal camera
41:02 Conclusions
#creality #sermoon #3dprinting
---
Download files:
No downloadable files for this video.
---
© 2019
+
mytechfun.com |
Terms of Use