MyTechFun.com
Eibos storage vacuum bags with USB electric vacuum pump (EURUS)
Title: Eibos storage vacuum bags with USB electric vacuum pump (EURUS). Watch on youtube: https://youtu.be/O7p_8GZ_RLM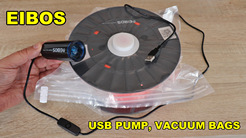 Eibos storage vacuum bags are designed especially for filament storage with valve in the middle and double sealing line. The EURUS USB vacuum pump can be screwed on the valve and powered from mobile charger or power bank. It can suck the air from the bag in less than a minute. I could successfully use this pump with my Banggood bags too. Valve cover together with double sealing line will reduce chance of air leaking to minimum.
https://shop.eibos3d.com/
5% discount code: EIBOS5%OFF
10% discount code: share this video to any 3D printing related social media (FB group, Instagram, Twitter etc.) and send the screenshot to: support[at]eibos3d.com , they will provide a 10% off coupon to you VIA email.
If you like my work, you could support me:
https://www.patreon.com/mytechfun
https://www.buymeacoffee.com/mytechfun
https://www.mytechfun.com/donation (PayPal link)
Mentioned in the video:
Storage vacuum bags from Banggood: https://youtu.be/-1PSRQ3AdTQ
Contents:
0:00 Introduction
0:34 Unboxing
1:27 Spool size
2:08 About bags
3:11 Using
5:04 Power consumption
5:22 Conclusions
5:48 Using the Pump with other bags
6:33 Final thoughts, coupon code
#eibos #vacuumbags
---
Download files:
No downloadable files for this video.
---
© 2019
+
mytechfun.com |
Terms of Use