MyTechFun.com
BIQU B1 SE PLUS, budget 3D printer with big printing volume and some premium features
Title: BIQU B1 SE PLUS, budget 3D printer with big printing volume and some premium features. Watch on youtube: https://youtu.be/Hmd8g97sPUI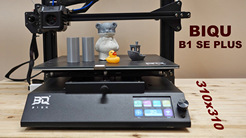 Tags: 3dprint, biqu, review, unboxing,
BIQU B1 SE Plus is a budget 3D printer with printing volume of 310x310x340mm and some premium features like new auto bed leveling system. The bed is fixed, so it completely relays on that new auto bed leveling sensor. This is one of the main reasons, why is it recommended for beginners. Very quiet printer with assembling time of approx. 15 minutes.
More info about the printer (not affiliate links):
✨ Amazon:
BIQU B1 SE PLUS: https://amzn.to/3AeIRca
Hot Bed: https://amzn.to/37Iaz3T
Code: NI58EISI
✨ AliExpress: ​https://bit.ly/3gbfCPk
✨ eBay: https://ebay.us/nrKy3R
✨ Official website: https://bit.ly/3iUKepJ
If you like my work, you could support me:
https://www.patreon.com/mytechfun
https://www.buymeacoffee.com/mytechfun
https://www.mytechfun.com/donation (PayPal link)
Contents
0:00 Introduction, specifications
0:51 Unboxing
4:13 Electronics inside
5:49 Assembling
14:26 Power on, display, menu
15:27 Homing, leveling
16:52 Inserting the filament
17:22 First print from SD card
19:04 Filament runout test
21:37 Power loss test
23:21 Removing the 1st print
25:20 Set Baby Steps for Z
26:36 Add B1 SE PLUS to Cura
28:23 Benchy
29:56 Vase mode
31:31 Conclusions
#biqu #3dprinter
---
Download files:
No downloadable files for this video.
---
© 2019
+
mytechfun.com |
Terms of Use