MyTechFun.com
EIBOS Cyclopes Filament dryer review. Can it dry Nylon too?
Title: EIBOS Cyclopes Filament dryer review. Can it dry Nylon too?. Watch on youtube: https://youtu.be/cbDxt4GcfFQ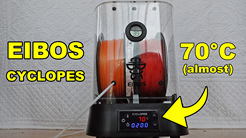 Tags: 3dprint, eibos, review, unboxing, filament dryer,
According to specifications, the Eibos Cyclopes filament dryer has great properties and according to website it can dry even Nylon too, which is the most moisture sensitive material. Temperature can be set to 70°C and it constantly blow the hot air which exit on the top of the box. The relative humidity can be followed on integrated RH meter (probably this is the reason for its name, Cyclops, the creature with one eye). In this video I tried to dry PETG and Nylon filaments which spend the night in water. Test is maybe too extreme, but it give us good picture about capabilities of this filament dryer.
https://shop.eibos3d.com/
5% discount code: EIBOS5%OFF
10% discount code: share this video to any 3D printing related social media (FB group, Instagram, Twitter etc.) and send the screenshot to: support[at]eibos3d.com , they will provide a 10% off coupon to you VIA email.
If you like my work, you could support me:
https://www.patreon.com/mytechfun
https://www.buymeacoffee.com/mytechfun
https://www.mytechfun.com/donation (PayPal link)
Sensor used in video HDC1080:
https://www.banggood.com/GY-213V-HDC1080...
Materials used in video: Prusament PETG (orange) and Gembird Nylon (Blue)
Contents:
0:00 Introduction
0:53 Unboxing
4:02 Max spools size
5:45 Power on, display, menu
7:44 Why to use filament dryer
8:28 Preparing the test
9:10 3D printing wet PETG, Nylon
10:13 Drying PETG, Nylon
13:31 3D printing dry PETG
14:52 3D printing dry Nylon
16:59 About the noise
17:35 Conclusions
#eibos #filamentdryer #3dprinting
---
Download files:
No downloadable files for this video.
---
© 2019
+
mytechfun.com |
Terms of Use