MyTechFun.com
Artillery Genius Pro - the new TPU 3D printing champion in my collection
Title: Artillery Genius Pro - the new TPU 3D printing champion in my collection. Watch on youtube: https://youtu.be/9F9did9tfaE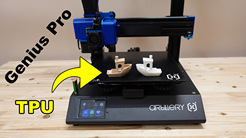 Tags: 3dprint, artillery3d, review, unboxing,
Genius Pro by Artillery is the new TPU printing champion in my 3D printing collection (between 15 different 3D printers). Main reason is the Titan direct drive extruder. In this video I was able to 3D print Benchy using the same gcode prepared for PLA (only raised the temperatures and reduced fan speed). Another specification is that this is also the quietest printer between all my machines. Artillery is listening for feedbacks and several improvements are visible on this printer, compared to previous generation. In this video you can see the unboxing, assembling and 3D printing (PLA and TPU).
Aliexpress store link:https://www.aliexpress.com/store/4697033
Artillery 3d official website: https://www.artillery3d.com/
If you like my work, you could support me, more details on https://www.mytechfun.com/donation
Artillery Sidewinder X1 V4 video: https://youtu.be/gxqCGK7_alE
Contents:
0:00 Introduction
00:43 Specifications
3:31 Unboxing
5:48 Electronics inside
7:24 Assembling
13:24 Turning ON
14:48 Thermal camera view
16:10 Bed leveling
18:34 Small fixes
18:55 First 3D printing
21:10 Filament runout sensor
22:36 Analysing 1st print
23:25 Own sliced cupe
24:07 Add Genius Pro to Cura
24:48 3D printing Benchy
26:48 3D printing TPU
29:05 TPU Benchy
31:44 Conclusions
#artillery3d #geniuspro #3dprinter
---
Download files:
No downloadable files for this video.
---
© 2019
+
mytechfun.com |
Terms of Use