MyTechFun.com
How fast is FLSUN SUPER RACER 3D printer with linear delta moving mechanism
Title: How fast is FLSUN SUPER RACER 3D printer with linear delta moving mechanism. Watch on youtube: https://youtu.be/wH5eODAY5oQ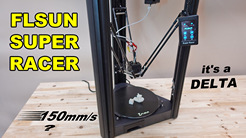 Tags: 3dprint, flsun, review, unboxing, delta printer,
FLSUN SR is delta 3D printer with linear delta moving mechanism. This moving structure has real potential to be fast and it is advertised as fast 3D printer with printing speed of up to 150 mm/s. First impression gives the feeling that it is a really premium printer, carbon fiber arms, linear rails super responsive touch screen. Few things could be improved, like spool holder, extruder, TPFE tube. I got really good printing speed and quality with default settings.
https://flsun3d.com/discount/IGOR20USD?redirect=%2Fproducts%2Fsuper-racer-sr
Discount code:IGOR20USD
If you like my work, you could support me:
https://www.patreon.com/mytechfun
https://www.buymeacoffee.com/mytechfun
https://www.mytechfun.com/donation (PayPal link)
Rotating dice printed in video:
https://www.prusaprinters.org/prints/68835-rotating-dice
Reddit page (link to Cura settings) mentioned in the video:
https://www.reddit.com/r/FLSUNDelta/comments/obcf4a/cura_49_for_speed_racer/
Contents:
0:00 Introduction
0:32 About cartasian printer
1:27 About CoreXY mechanism
2:46 About linear delta motion
3:23 Specifications
4:21 Unboxing
7:20 Assembling
15:19 Turning ON
16:26 Auto bed leveling
19:28 Adding printer to Cura
20:20 First print: Cube
22:55 Benchy
24:38 About the noise
25:15 Printing speed comparison (vs Prusa)
28:29 Conclusions
#flsun #delta3dprinter #flsunsr #flsunspeedracer
---
Download files:
No downloadable files for this video.
---
© 2019
+
mytechfun.com |
Terms of Use