MyTechFun.com
6 filament dryer test - which one dries better? eBox, eBox Lite, Sunlu, Sovol, Creality, Eibos
Title: 6 filament dryer test - which one dries better? eBox, eBox Lite, Sunlu, Sovol, Creality, Eibos. Watch on youtube: https://youtu.be/6VB-pEvSed4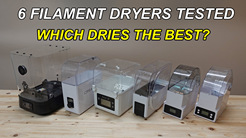 Tags: 3dprint, eibos, esun, sunlu, creality, sovol, review, unboxing, filament dryer,
6 filament dryers tested in this video covers approx 90% of the market. Each of them have separate review video, so in this video the only question I want to answer is WHICH ONE DRIES THE BEST?
For this testing I prepared the experiment, which will be repeatable with future dryer review videos and that is drying the sponge with added 2mL of water. I followed the temperatures and humidity inside the boxes using Arduino and HDT22 sensor.
All filament dryer videos: https://www.mytechfun.com/videos/filament_dryer
Results on the website: https://www.mytechfun.com/filament-dryers
If you like my work, you could support me:
https://www.patreon.com/mytechfun
https://www.buymeacoffee.com/mytechfun
https://www.mytechfun.com/donation (PayPal link)
DHT22 sensor used in the video: https://www.banggood.com/custlink/mD3Yg8jHmG
Link to companies who sent me the products:
eSun: https://www.banggood.com/ESUN-Filament-Box-...
eBox Lite: https://www.esun3d.net/Products/eBOX-Lite
Sunlu S1: https://www.banggood.com/SUNLU-FilaDryer-S1...
Sovol: https://sovol3d.com/products/large-filament-dryer-box
Creality: https://www.banggood.com/custlink/KvGhg5VKJr
Eibos: https://shop.eibos3d.com/
Contents:
0:00 Introduction
2:39 Tested dryers
4:01 Test setup
5:18 Preparing the experiment
6:33 Start with drying
8:01 Drying finished
8:42 About dryers
10:56 Data collected
11:24 Temperature changes
12:43 Relative Humidity changes
13:15 Final results
15:22 Conclusions
#filamentdryer #esunebox #sunlus1 #sovol #creality #eibos
---
Download files:
---
© 2019
+
mytechfun.com |
Terms of Use