MyTechFun.com
TF to SD card adapter (micro SD to SD card) another upgrade for Ender-3 V2
Title: TF to SD card adapter (micro SD to SD card) another upgrade for Ender-3 V2. Watch on youtube: https://youtu.be/dybAyK0_IhQ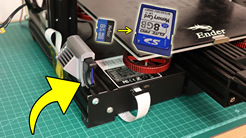 Tags: 3dprint, ender3, ender3upgrade, creality,
This is one of those upgrades which don't have effect to 3D printing quality, but they are for more comfortable usage. Micro SD or TF cards are small and light weight, perfect for smartphone or another place where you will insert them permanently. With 3D printers these cards are used to transfer gcode between computer and the printer. Larger SD cards are more comfortable for human hands. This is ready to use product for Ender 3 with included holder.
Banggood affiliate link:
https://www.banggood.com/custlink/DKKY0gMtB7
More Ender3 upgrade videos:
https://www.mytechfun.com/videos/ender3upgrade
Contents:
0:00 Introduction
0:30 Why this upgrade?
1:15 Unboxing
2:46 Installing
6:44 Test print
7:47 Conclusions
#ender3 #ender3v2 #ender3upgrade
---
Download files:
No downloadable files for this video.
---
© 2019
+
mytechfun.com |
Terms of Use