MyTechFun.com
Prusament resin vs Siraya Sculpt resin, which one is stronger? Mechanical tests
Title: Prusament resin vs Siraya Sculpt resin, which one is stronger? Mechanical tests. Watch on youtube: https://youtu.be/_jZQGTw6aEs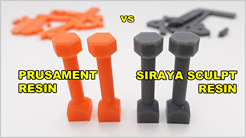 Tags: 3dprint, strength test, material test, prusament, siraya, sla 3d printing,
Mechanical strength comparison of Prusament resin and Siraya sculpt resin. Prusament is in Prusa tough orange color and Siraya Sculpt in gray color. These test objects are sent to me by one of my viewer: Samuel from Slovakia. Objects are printed on Prusa SL1s SLA 3D printer. Samuel also did an unboxing video of Prusament resin, you can see it here: https://youtu.be/ZbZKrMQO7Rg
Product pages (not affiliate links):
Prusament resin: https://shop.prusa3d.com/en/prusament-resin/1687-prusament-resin-tough-prusa-orange.html
Siraya Sculpt resin: https://siraya.tech/products/sculpt-1kg-high-resolution-hitemp-resistance-resin-for-dlp-lcd-printers-like-moonray
If you like my work, you could support me:
Become Patreon: https://www.patreon.com/mytechfun
Or just buy me a coffee: https://www.buymeacoffee.com/mytechfun
Paypal donation link: https://www.mytechfun.com/donation
Results can be downloaded below this text.
Contents:
0:00 Introduction
0:49 Closer look, dimensions
2:05 Tensile test
3:02 Shear test
3:54 Bending test
4:57 Impact test
6:15 Torque (twist) test
7:18 Creep test
11:09 All results
12:43 Conclusions
#prusament #siraya #resin #sla3dprinting #prusa
---
Download files:
---
© 2019
+
mytechfun.com |
Terms of Use