MyTechFun.com
Nasum A5 Pro 5.5W laser engraver assembling and review
Title: Nasum A5 Pro 5.5W laser engraver assembling and review. Watch on youtube: https://youtu.be/2rnA8IoYG-g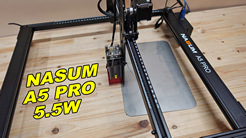 Tags: laser engraving, laser cutting, review, unboxing,
Nasum A5 Pro is laser engraver with area of 410x400 mm (16.1x15.7 inch). Power of the laser is 5.5W. In this video you can see unboxing, assembling and testing (cutting and engraving). Materials tested are: Plywood, Acrylic (black and transparent), PLA, PETG 3D printed objects, stainless steel.
Amazon link (not affiliate): https://amzn.to/3BJcX7E
List of all laser engraving videos on MyTechFun channel:
https://www.mytechfun.com/videos/laser_engraving
If you like my work, you could support me:
https://www.mytechfun.com/donation
Contents:
0:00 Introduction
1:32 Specifications
2:57 Unboxing
6:24 Assembling
17:53 Turning ON
19:18 Noise measuring
19:34 Setting the focus
20:19 Engraving plywood
21:38 Cutting plywood
23:35 Black acrylic
24:42 Transparent acrylic
25:52 PETG, PLA cutting test
26:23 Engraving stainless steel
27:42 Conclusions
#nasum #laserengraving #laserengraver
---
Download files:
No downloadable files for this video.
---
© 2019
+
mytechfun.com |
Terms of Use