MyTechFun.com
Eibos Series X: Easdry filament dryer review, the new vice-champion
Title: Eibos Series X: Easdry filament dryer review, the new vice-champion. Watch on youtube: https://youtu.be/IPKQCZ75Vwg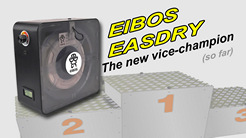 Tags: 3dprint, review, eibos, filament dryer,
I got the opportunity to do the review of Eibos Series X Easdry filament dryer. This dryer is much cheaper compared to its bigger brother, the Cyclopes and according to specifications, it can reach the temperature of 65°C. I tested this dryer with my standard experiment, where I am drying a soldering sponge with added 2mL of water. Also, I recorded the temperature and relative humidity changes in 1 hour test. The results are downloadable from my website.
Tested dryer
https://shop.eibos3d.com/
5% discount code: EIBOS5%OFF
10% discount code: share this video to any 3D printing related social media (FB group, Instagram, Twitter etc.) and send the screenshot to: support[at]eibos3d.com , they will provide a 10% off coupon to you VIA email.
Filament dryer comparison table: https://www.mytechfun.com/filament-dryers
All filament dryer reviews:
https://www.mytechfun.com/videos/filament_dryer
The results can be downloaded below this text.
Do you like my work? You could support me:
https://www.mytechfun.com/donation
https://www.buymeacoffee.com/mytechfun
https://www.patreon.com/mytechfun
Contains:
0:00 Introduction
0:14 Why need for filament dryer
1:08 About the test
1:26 About Eibos dryers
3:14 Unboxing
3:52 First impressions
5:31 Spool size test
6:49 The Noise test
8:37 Preparing the experiment
10:22 Starting with drying
12:18 Sponge test results
12:42 Temperature and RH data
13:21 Conclusions
#eibos #3dprinting #filamentdryers
---
Download files:
---
© 2019
+
mytechfun.com |
Terms of Use