MyTechFun.com
Ortur Aufero Laser 2 laser engraver, cutter review (tested with SF, LF laser modules, air assist)
Title: Ortur Aufero Laser 2 laser engraver, cutter review (tested with SF, LF laser modules, air assist). Watch on youtube: https://youtu.be/y_b4poZoovo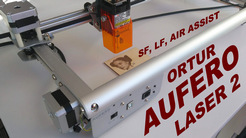 Tags: laser engraving, laser cutting, review, unboxing, ortur,
New laser engraver from Ortur: Aufero Laser 2, tested with two 5W modules: Short focus (optimised for engraving) and Long Focus (optimised for cutting). The LF module is equipped with air assist too. In video you can see testing on different materials, like plywood, acrylic, lather, textile, cardboard, stainless steel etc.
Aufero Laser 2 on Ortur website (affiliate link):
https://s.zbanx.com/r/gIQXs0zV8Iu5
--Promotion Time: January 10, 2022, 8:00 AM, UTC- February 10, 2022, 8:00 AM UTC
--Product Name: Aufero Laser 2
--Product Model: LU2-2, LU2-4 SF/LF
--Original Price:
LU2-2: $329.99
LU2-4 SF/LF: $429.99
--Flash Price:
LU2-2: $269.99
LU2-4 SF/LF: $369.99
--Gifts: 1st-3rd orders 3 get YRR 2.0 worth $89.99, 4th-6th orders get Z-axis worth $69.99 everyday
Used images can be downloaded below this text.
All laser engraving videos:
https://www.mytechfun.com/videos/laser_engraving
Contents
0:00 Introduction
0:44 Specifications
1:43 Unboxing
4:45 About safety
5:28 Assembly Manual
5:42 Assembling
10:01 Connection, LaserGRBL
11:44 Plywood engraving (SF module)
16:06 Plywood cutting (SF)
15:53 Acrylic cutting (SF)
19:19 Leather engraving (SF)
19:48 Textile cutting (SF)
20:16 Cardboard (SF)
21:12 Stainless steel engraving (SF)
23:08 Installing Long focus module (LF)
24:42 Plywood engraving (LF)
25:33 Plywood cutting (LF)
27:26 Engraving stainless steel (LF)
28:25 Air assist installation (LF)
30:11 Air assist vissualy
30:34 Plywood cutting (LF+Air Assist)
31:24 Plywood engraving (LF+Air Assist)
32:23 Conclusions
#ortur #laserengraving #laserengraver
---
Download files:
---
© 2019
+
mytechfun.com |
Terms of Use