MyTechFun.com
3D printed very simple turntable for video shoot
Title: 3D printed very simple turntable for video shoot. Watch on youtube: https://youtu.be/oQQn7od4lo0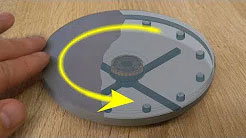 Tags: turntable, 3dprint, 3d printed turn table, product design,
After my 3D printed object is ready, I would like to record it from every side. For this a turntable is a perfect solution, but I need one with very simple structure, without battery or electric power. I just need 2-3 turns to record short video about product.
For this I designed very simple solution, where I am using ceramic ball bearing (known as fidget spinner bearings).
Important part is weight near the edge of turntable, to get more rotation thanks to moment of inertia. For this I designed threats for 12 M6 nuts.
STL files used in video can be downloaded below this text.
---
Download files:
---
© 2019
+
mytechfun.com |
Terms of Use