MyTechFun.com
Atomstack P9 with new generation 10W diode laser module
Title: Atomstack P9 with new generation 10W diode laser module. Watch on youtube: https://youtu.be/fm5G6wSJNpA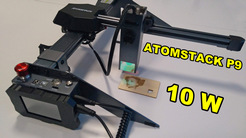 Tags: laser engraving, review, unboxing, atomstack,
Atomstack P9 is smaller version from the Atomstack laser engraver family, but it is equipped with strongest, 10W laser module. Two 5W lasers are concentrated into one beam with results very strong cutting (and engraving) power. This is my first 10W laser engraver, I am still learning new settings. I also tested it's compatibility with Rotary Roller for engraving cylindrical objects.
Atomstack P9: https://www.atomstackofficial.com/preview/products/atomstack-p9-m50-portable-laser-engraver
Mentioned in the video:
Rotary roller review video: https://youtu.be/eM9WyXwsJsI
R3 Rotary roller provided by Banggood: https://www.banggood.com/custlink/GD3ds2Y7zp
Air assist: https://www.banggood.com/custlink/KKvEQULuQS
Contents:
0:00 Introduction
1:31 Unboxing
3:44 Assembling
9:06 Engraving from SD card (factory code)
9:45 Engraving from SD card (own code)
11:05 Engraving with USB connection
11:29 Engraving wood
12:39 Cutting wood
14:09 Cutting acrylic
14:48 Engraving stainless steel
15:29 Testing with rotary roller
16:48 Conclusions
#atomstack #laserengraving
---
Download files:
No downloadable files for this video.
---
© 2019
+
mytechfun.com |
Terms of Use