MyTechFun.com
How to 3D print spheres?
Title: How to 3D print spheres?. Watch on youtube: https://youtu.be/osj-sxbsqWk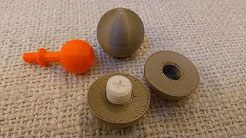 Tags: 3dprint, spheres, how to,
3D printing spheres may be very tricky. Best quality we can get if we print two hemispheres and then we put them together.
There are several options, how to stick those half parts together. In this video using a variable layer height on spheres is explained, to get better quality of the top without significantly increasing printing time.
Any suggestion for better solution is welcome. Write it in comment of the video.
---
Download files:
No downloadable files for this video.
---
© 2019
+
mytechfun.com |
Terms of Use