MyTechFun.com
Atomstack air assist kit for cleaner laser cutting
Title: Atomstack air assist kit for cleaner laser cutting. Watch on youtube: https://youtu.be/dDInprkMDhU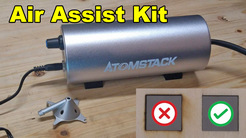 Tags: laser engraving, review, unboxing, atomstack,
Air assist helps with laser cutting of the wood, cut edges will be much cleaner without burned marks. This kit by Atomstack arrives with air nozzles and replacement glasses too, so it is compatible with almost every Atomstack laser engraver.
Buy on Banggood: https://www.banggood.com/custlink/KGDYk2nWHa
coupon code:BGb06d99 , code price:$89.99, warehouse:CZ/CN, exp:6.30
summer sale (6.6-6.27) promotion links:
Saving tips https://ban.ggood.vip/120Qs
Money Box https://ban.ggood.vip/120Qx
Hobby Day https://ban.ggood.vip/120QA
Mentioned fish tank air pump video
https://youtu.be/-Vd3VY4L-wA
If you like to support the channel with donation:
https://www.mytechfun.com/donation
Contents:
0:00 Introduction
1:49 Unboxing
3:13 Assembling
5:41 Noise test
6:25 Air flow test
6:59 Broken glass
7:43 Pipe line
8:07 Engraving (no air vs air)
8:58 Cutting (no air vs air)
10:17 Conclusions
#atomstack #lasercutting #laserengraving #airassist
---
Download files:
No downloadable files for this video.
---
© 2019
+
mytechfun.com |
Terms of Use