MyTechFun.com
Big improvements on TS2 10W diode laser engraver by TwoTrees
Title: Big improvements on TS2 10W diode laser engraver by TwoTrees. Watch on youtube: https://youtu.be/Q20LvGHsnbY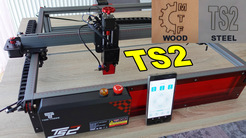 Tags: laser engraving, review, unboxing, twotrees,
TS2 is 10W diode laser engraver by Two Trees with significant upgrades from previous (TTS-55) version.
TwoTrees Laser Engraver TS2
Product Link: https://s.zbanx.com/r/agDOK2GFiBjU
Original Price: $699
Promo Price: $669
Warehouse: USA & EU Warehouses
Estimated Shipping Time: 3-7 business days
Activity 1-ONLY 50 Units:
Buy One Get Three Coupons:
Buy TS2 to get engraving materials+Y-axis Rotary+svg gift package
Coupon Code (It cannot be combined with the "$30 off code".):GCW6CSGN9XE9
Activity 2- during 25th June-25th July UTC:
Get $30 off when buying TS2 TS2 (with $30 off)
Coupon Code (It cannot be combined with the "buy one get three coupons".):TS2 (with $30 off)
Activity 3-30 days since customer purchse:
Buy TS2 and return $350 discount coupons, which can be used next time you purcharse over $2,000
Contents:
0:00 The story
3:06 Unboxing
5:40 Assembling
15:24 Turning ON
16:10 Preparing LaserGRBL
16:57 Auto focusing
17:32 Engraving paper
18:32 Engraving plywood
18:59 Engraving paper, no flame sensor
19:28 Engraving plywood, grayscale image
21:15 Cutting plywood
22:31 Adding, testing Air assist
24:34 Cutting black acrylic
25:00 Cutting MDF wood
25:50 Engraving stainless steel
26:38 WiFi connection
28:36 Conclusions
#twotrees #laserengraver #laserengraving
---
Download files:
No downloadable files for this video.
---
© 2019
+
mytechfun.com |
Terms of Use