MyTechFun.com
Testing: Black-Ops non-stick 3D printer nozzles by 3D Easy (MK8 and E3D-V6)
Title: Testing: Black-Ops non-stick 3D printer nozzles by 3D Easy (MK8 and E3D-V6). Watch on youtube: https://youtu.be/8s8aJn2ZRDI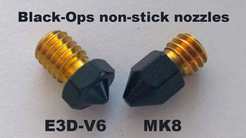 I tested MK8 and E3D-V6 Black-Ops non-stick 3D printer nozzles by 3D Easy. According to specs, these nozzles are coated with non-sticking coating, making it slick and slippery (especially to PETG type filaments). It should drastically reduce the stringing and blobs-type print artifacts, improving print quality. In this video I am printing the stringing tests with regular and Black-OPS nozzles and present the results, leaving the conclusions to viewer. MK8 nozzles are tested with Ender3-V2 equipped with MicroSwiss all metal hotend. E3D-V6 is used on Prusa MK3S.
Product website: https://3d-easy.xyz/collections/all
Stringing tests in the video:
https://www.thingiverse.com/thing:2958900
https://www.thingiverse.com/thing:2080224
Contents:
0:00 Introduction
1:18 Closer look
1:36 Dimension check
2:29 Ender3V2 - regular nozzle
3:49 Replacing the MK8 nozzle
5:35 Ender3V2 - Black OPS nozzle
6:15 Side-by-side E3V2 printing
7:03 Prusa MK3S - regular nozzle
8:15 Replacing the E3D-V6 nozzle
10:05 Prusa MK3S - Black OPS nozzle
10:30 Side-by-side MK3S printing
10:47 Final words
#mk8nozzle #e3dv6 #ender3v2 #prusamk3s #3dprinting
---
Download files:
No downloadable files for this video.
---
© 2019
+
mytechfun.com |
Terms of Use