MyTechFun.com
Testing: Filaticum model (filament with gypsum) and foam (light, foaming filament)
Title: Testing: Filaticum model (filament with gypsum) and foam (light, foaming filament). Watch on youtube: https://youtu.be/9RcGLnCj0Y8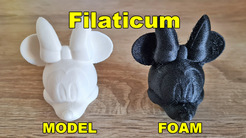 Tags: 3dprint, filaticum, material test,
A month ago I was visiting 3D printing companies on Hungexpo and there Filaticum company introduced me their filaments. In this video I am testing Filaticum Model and Foam filaments. Model contains gypsum, which makes it interesting for modellers. Foam expands on higher temperatures and by reducing the flow rate, we can get very light objects with foamed, spongy surface.
Product links:
https://filaticum.com/en/product/philament-model/
https://filaticum.com/en/product/filaticum-foam/
STL used in the video can be downloaded below this text.
Minnie STL from thingiverse (3D printed with 60% size): https://www.thingiverse.com/thing:2116857
Temperature tower: https://www.thingiverse.com/thing:2729076
Contents:
0:00 Introduction
0:44 Contents of the box
1:40 About Filaticum Cleaning
1:55 About Filaticum Model
2:38 About Filaticum Foam
3:56 Model: 3D printing temperature tower
6:01 Model: 3D printing figure
6:48 Model: Post processing
8:41 Model: Drilling, cutting
10:27 Model: Mechanical testing
12:11 Filaticum Cleaning
12:54 Filaticum Foam: Flow rate tower
16:18 Foam: 3D printing figure
16:40 Foam: Post processing
17:29 The weight
17:43 Foam with PLA settings
18:20 Conclusions
#filaticum #3dprinting #filament
---
Download files:
---
© 2019
+
mytechfun.com |
Terms of Use