MyTechFun.com
Brilliance Laser Inks with diode lasers - engraving (marking) steel, aluminum, brass, copper
Title: Brilliance Laser Inks with diode lasers - engraving (marking) steel, aluminum, brass, copper. Watch on youtube: https://youtu.be/AeN8jhTkde4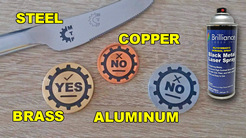 Tags: laser engraving, review,
Black Metal Laser Spray by Brilliance Laser Inks is an aerosol spray designed for marking metals in combination with CO2 and fiber lasers. Nowadays diode lasers become very strong, so I wanted to find out what can we do with 5W or 10W diode lasers too. Tested materials: stainless steel, regular steel, aluminum, brass and copper.
Product from the video:
https://brilliancelaserinks.com/collections/aerosol-cans
Microscope used in the video:
Review video: https://youtu.be/DionUg-NkbY
Banggood link: https://www.banggood.com/custlink/mKmyBwrJcj
Laser engravers from this video:
TTS-55 (5W) https://youtu.be/8YIPKHZnk5w
Atomstack P9 (10W) https://youtu.be/fm5G6wSJNpA
Final settings used in this video:
With every setting: S1000 (max power), M3 (constant power). 14 Lines/mm (started with 12), Speed variate.
5W (TTS-55)
Stainless steel: 1600 mm/min
Alu, Brass, Copper - marking not permanent
10W (Atomstack P9)
Stainless steel: 1600 mm/min
Regular steel: 800 mm/min
Alu: 100 mm/min (marking strong, but black color visible on scratching object)
Brass: 400 mm/min (marking looks very durable on 2 days test, but scratchable with sharp object)
Copper: 200 mm/min marking strong but it's coming down if scratched.
Contents
0:00 Introduction
1:36 Tested materials
2:02 Possibility of diode lasers
2:46 Preparing the engraving
4:16 5W on stainless steel
6:43 5W on aluminum
8:40 5W on brass
10:15 5W on copper
10:55 Moving to 10W laser
11:05 10W on stainless steel
11:49 10W on aluminum
13:23 10W on brass
15:17 10W on copper
16:35 10W on regular steel
17:55 Under the microscope
18:51 Conclusions
#brillianceinks #laserengraving #diodelaser
---
Download files:
No downloadable files for this video.
---
© 2019
+
mytechfun.com |
Terms of Use