MyTechFun.com
Spiral helix turbulence promoter for membrane filtration
Title: Spiral helix turbulence promoter for membrane filtration. Watch on youtube: https://youtu.be/-tby9NBpx6A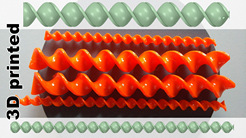 Tags: 3dprint, spiral helix, designspark mechanical, product design, epoxy,
Notice: This method can be used to 3D print similar spiral helix object too!
3D printing is my hobby at home, but on my workplace (Szent István University) I am working with membrane filtration too, and we noticed that some helix object, inserted into tubular membrane, has positive effect to membrane filtration process. In this video I am designing and 3D printing spiral turbulence promoter for membrane filtration, BUT this method you can use to create similar spiral helix object like conveyor screw, spiral mixer etc. Used software is DesignSpark Mechanical. It's free software, with some limitations, but those limitations doesn't effect 3D printer users. I found Design Spark Mechanical software perfect for this job, because it can be done in only few minutes. In Fusion360 (my primary 3D software) I needed almost an hour for same job. In one of my next videos I am using similar method to design static mixer for mixing fluids.
As you can see this is very tall thin object and 3D printing was big challange. Best quality I got with printing verticaly, but object needs some support (I solved by printing 4 turbulence promoters in same time, they support each other).
Materials and Methods:
- PLA and PETG (Prusament)
- Epoxy resin: XTC-3D from Smooth-on
- Prusa MK3 3D printer
- DesignSpark Mechanical 3D CAD software
Links:
Szent István University:
www.sziu.hu
---
Download files:
No downloadable files for this video.
---
© 2019
+
mytechfun.com |
Terms of Use