MyTechFun.com
Ender-3 V2 NEO - upgraded Ender3-V2 but something between V2 and S1
Title: Ender-3 V2 NEO - upgraded Ender3-V2 but something between V2 and S1. Watch on youtube: https://youtu.be/84cDVu1Q6rk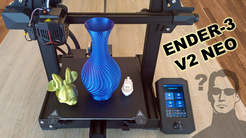 Tags: 3dprint, ender3, creality,
Ender-3 V2 NEO is a refreshment in Creality collection, it is upgraded V2 but cheaper than S1. If you don't need a direct drive extruder, it is a great and affordable alternative to S1.
Product Link: https://www.creality3dofficial.com/products/ender-3v2-neo-3d-printer
All Ender-3 related videos: https://www.mytechfun.com/videos/ender3
Vase by bert_lz: https://www.thingiverse.com/thing:3164118
Minnie by zacleung: https://www.thingiverse.com/thing:2116857
Contents:
0:00 Introduction
0:52 What are the upgrades?
2:19 Unboxing
7:30 What is inside?
9:08 Leveling process
11:18 Benchy (gcode by manufacturer)
13:58 Ultimaker Cura
14:17 Calibration cube (own gcode)
15:16 Leveling check - squares spread on bed
15:43 Cylinder
16:26 Testing cups (5pcs)
17:00 Minnie (dual color filament)
18:15 Vase (spiral) mode
20:34 Measuring the noise
20:58 Conclusions
#creality #ender3 #3dprinter
---
Download files:
No downloadable files for this video.
---
© 2019
+
mytechfun.com |
Terms of Use