MyTechFun.com
Pro or no? Ender-3 S1 Pro in-deep review, unboxing, assembling, testing in- and outside of enclosure
Title: Pro or no? Ender-3 S1 Pro in-deep review, unboxing, assembling, testing in- and outside of enclosure. Watch on youtube: https://youtu.be/TbtwC0mdlzM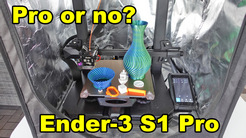 Tags: 3dprint, ender3, creality,
Ender-3 S1 Pro is the best Ender3 3D printer so far. Most important advantage is ability to print on temperatures up to 300°C. This extend the compatible filaments to hi-temperature ASA, ABS, polycarbonate and nylon.
Ender3 S1 Pro on Banggood: https://www.banggood.com/custlink/3mmCDVO1qY
Mentioned in the video:
Eryone dual color filaments: https://eryone3d.com/?ref=mytechfun
Ender3V2 safety upgrades: https://youtu.be/GsymnDDAjiE
Ender3V2 temperatures: https://youtu.be/RlAxMqRlcb0
Bed leveling explained in 3D: https://youtu.be/aMMYVVKzvO8
Creality enclosure review video: https://youtu.be/YA1ebCIUppw
Creality enclosure on Banggood: https://www.banggood.com/custlink/3KKEFjewOn
Vase by bert_lz: https://www.thingiverse.com/thing:3164118
All Ender3 related videos: https://www.mytechfun.com/videos/ender3
Contents:
0:00 Introduction
0:20 About V2, NEO, S1, S1 Pro
3:57 Unboxing
6:00 Assembling
11:48 What is inside?
16:29 Power ON, Leveling
19:34 Printing factory gcode (coin)
21:19 Cura settings
22:03 Calibration cube
23:23 Benchy
25:04 Stepper motor temperatures
26:33 Spiral vase mode
28:27 Testing M600 command
29:42 Measuring the noise
30:06 Printing ABS
32:32 Printing PC Blend
33:49 Conclusions
#3dprinting #creality #ender3s1pro
---
Download files:
No downloadable files for this video.
---
© 2019
+
mytechfun.com |
Terms of Use