MyTechFun.com
Great combination: xTool D1 Pro 10W laser engraver and RA2 Pro rottary attachment
Title: Great combination: xTool D1 Pro 10W laser engraver and RA2 Pro rottary attachment. Watch on youtube: https://youtu.be/E0NFfNcjjAM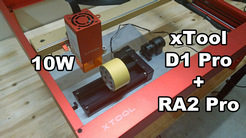 Tags: laser engraving, xtool,
xTool D1 Pro laser engraver and RA2 Pro rotary attachment is a great combination in any workshop. This 10W module is one of the strongest diode laser tested on MyTechFun channel. RA2 Pro is the most versatile rotary attachment for engraving cylindrical and spherical objects. D1 Pro arrives with own engraving software (xTool Creative Space), which is far better than LaserGRBL and it support flat and cylindrical engravings and cuttings.
Visit xTool: https://www.xtool.com/?ref=0AuYNqrC4hBqrB&utm_source=influencer
D1 Pro: https://www.xtool.com/products/portable-diode-laserbox-d1-for-laser-engraving-laser-cutting?ref=0AuYNqrC4hBqrB&utm_source=influencer&variant=43024249553135
Contents:
0:00 Introduction
0:44 Specifications
2:09 Unboxing
4:03 Assembling
4:49 First impressions
6:43 xTool Creative Space
8:00 Engraving over USB cable
8:20 Engraving over WiFi
9:29 About the software
10:45 Engraving wood
11:50 Engraving grayscale image
13:04 Cutting wood
15:09 Cutting black acrylic
15:36 Engraving stainless steel
17:10 RA2 Pro unboxing
18:41 Engraving cylindrical objects
20:22 Using the Chuck
21:57 Conclusions
#xtool #laserengraving #laserengraver #xtoold1pro #ra2
---
Download files:
No downloadable files for this video.
---
© 2019
+
mytechfun.com |
Terms of Use