MyTechFun.com
3D printed static mixer
Title: 3D printed static mixer. Watch on youtube: https://youtu.be/qP3daddfIiU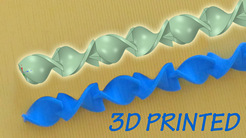 Tags: 3dprint, static mixer, designspark mechanical, product design, epoxy,
In this episode I am designing and 3D printing classic static mixer for mixing fluids. In first try I tried to print it horizontally, but surface was not acceptable. Insecond version I modified the static mixer, so it can be 3D printed in vertical position. At the end of the video I am testing it with mixing two fluids (milk and coffie).
All STL files used in video can be downloaded below this text.
Content of the video:
00:09 introduction
01:48 design v1
06:44 horizontal 3D printing
07:37 design v2
12:01 vertical printing
13:36 prepare for using
14:26 slow motion mixing fluids
15:28 summary
Szent István University:
http://www.sziu.hu/
About static mixer on wikipedia
https://en.wikipedia.org/wiki/Static_mixer

---
Download files:
---
© 2019
+
mytechfun.com |
Terms of Use