MyTechFun.com
Designing a timing belt in Fusion 360 optimized for 3D printing
Title: Designing a timing belt in Fusion 360 optimized for 3D printing. Watch on youtube: https://youtu.be/GhPkLBe27lI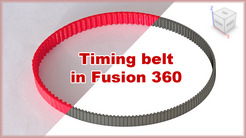 Tags: 3dprint,
Few months ago, 3D printed TPU timing belts were tested on this channel and conclusion was that they can be used in applications, where transmitted torque is smaller. In this video I am designing GT2 timing belt optimized for 3D printing.
Video about tested timing belts: https://youtu.be/tMBeToLCXDo
Contents
0:00 Introduction
1:15 About GT2 design
3:16 F360 designing 300mm timing belt
5:44 What if we need longer belt?
7:37 Final words
#3dprinting #timingbelt #fusion360
---
Download files:
No downloadable files for this video.
---
© 2019
+
mytechfun.com |
Terms of Use