MyTechFun.com
Great woodworking tool: Enjoywood CEL-E10 10W Laser engraver
Title: Great woodworking tool: Enjoywood CEL-E10 10W Laser engraver. Watch on youtube: https://youtu.be/NbKWjslh2L8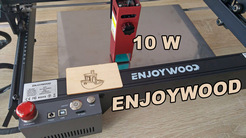 Tags: laser engraving, enjoywood,
Enjoywood CEL-E10 is a great and strong diode laser engraver. It deservs the name, since this 10W laser is great for engraving and cutting of the wood. It is compatible with Atomstack equipment (display, air assist..)
Buy on Banggood: https://www.banggood.com/custlink/vKmCEq38Ma
Normal Price: $439.99
Coupon Price: $359.99
Coupon Code: BGEJCZ
Warehouse: CZ
Exp: 9.11
From August 31st to September 13th is Banggood 16th anniversary sale:
Fans Day Calendar https://www.banggood.com/custlink/vDDJRkcJwT
Banggood Fans Day https://www.banggood.com/custlink/vD3cdqCPKd
Saver Deposit Sale https://www.banggood.com/custlink/33mJyMCPGC
Air assist kit mentioned in the video: https://youtu.be/dDInprkMDhU
Contents:
0:00 Introduction
0:12 Specifications
1:08 Unboxing
2:51 Assembling
3:16 First impressions
5:08 Setting the focus
5:26 Starting the software
6:28 Engraving wood
8:31 Cutting wood
10:59 Cardboard paper
11:35 Cutting black acrylic
12:09 Engraving stainless steel
13:10 Offline engraving (TF card)
14:33 Conclusions
16:35 Suggestions for cutting
#laserengraving #laserengraver #enjoywood
---
Download files:
No downloadable files for this video.
---
© 2019
+
mytechfun.com |
Terms of Use