MyTechFun.com
Budget 3D printer able to print on 300°C - Sovol SV06 review
Title: Budget 3D printer able to print on 300°C - Sovol SV06 review. Watch on youtube: https://youtu.be/ZtxigOw-LkA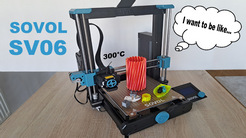 Sovol SV06 is a 3D printer equipped with a direct drive extruder and all metal hotend. It can 3D print even on 300°C. For this price it contains other nice features, like flexible PEI sheet, dual Z axis, silent stepper motor drivers, inductive auto leveling sensor etc. The design is very similar to Prusa MK3S but the bed size and print volume is like Ender3-V2. Interesting part of SV06 is the planetary extruder with high drive ratio, this means smaller motor can provide the torque required for filament pushing.
https://sovol3d.com/products/sovol-sv06-direct-drive-3d-printer
SV06 release giveaway between Oct. 10th- Oct. 24, search on their website. Code for my video: SV06MYTF (not affiliate).
Other mentioned in the video:
Eryone dual color filament: https://eryone3d.com/?ref=mytechfun
Polymaker TPU filament review: https://youtu.be/9vhfI9yvmpU
Helical gear vases: https://www.printables.com/model/292300-pair-of-helical-gear-vases
Check Sovol filament dryer review video:
https://youtu.be/FjVmbWYZXU4
Contents:
0:00 About SV06
2:42 Unboxing, analyzing parts
6:57 Assembling
11:04 Leveling
12:57 Inserting filament
13:46 3D printing sample gcode
15:19 Stepper motor temperatures
16:54 Benchy (sample gcode)
18:22 Slicer settings
19:21 Calibration cube (own gcode)
19:39 Spiral (vase) mode (PLA)
20:21 TPU filament print
22:06 PETG 3D printing
23:02 ASA 3D printing (270°C)
24:07 Conclusions
#sovol #3dprinting #sv06
---
Download files:
No downloadable files for this video.
---
© 2019
+
mytechfun.com |
Terms of Use