MyTechFun.com
Kingroon PEX (Wham Bam) flexible sheet + LDLAC adhesive spray to prevent warping? Let's find out
Title: Kingroon PEX (Wham Bam) flexible sheet + LDLAC adhesive spray to prevent warping? Let's find out. Watch on youtube: https://youtu.be/GPINsEuvGfg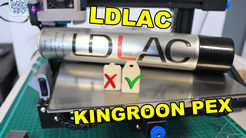 Tags: 3dprint, print-sheet, kingroon,
According to Kingroon, their flexible PEX Sheet Wham Bam Build Plate and LDLAC adhesive spray are great combination to prevent warping during 3D printing with PLA, PETG, TPU, ABS and PEEK. In this video I am testing these two product by printing ABS and Nonoilen filament. The Nonoilen is great material for food safe applications, it can be even cleaned with boiling, but I always had the problem with adhesion to the bed. Let's see, if these materials can help with this problem.
Product pages (not affiliate links):
PEX sheet: https://kingroon.com/products/pex-sheet-build-surface-wham-bam-flexible-build-plate?variant=42868534411482
LDLAC: https://kingroon.com/products/3d-printer-bed-adhesion-spray
Coupon code: MTF (8% off)
Nonoilen review video: https://youtu.be/qB3tgEEDTyc
Contents:
0:00 Introduction
0:19 About PEX
0:55 About LDLAC
1:34 Unboxing
2:24 Magnetic base installation
4:18 3D printing on clean sheet
6:39 3D printing on LDLAC sheet
9:25 Conclusions
#3dprinting #kingroon #pexsheet #whambam #ldlac
---
Download files:
No downloadable files for this video.
---
© 2019
+
mytechfun.com |
Terms of Use