MyTechFun.com
Carbon Fiber PLA vs META-PLA vs PLA+ vs PLA by Sunlu
Title: Carbon Fiber PLA vs META-PLA vs PLA+ vs PLA by Sunlu. Watch on youtube: https://youtu.be/OfIe3SHmeMA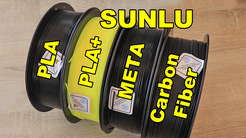 Tags: 3dprint, sunlu, strength test, material test,
Big Sunlu PLA filament comparison: Carbon Fiber PLA vs META-PLA vs PLA+ vs regular PLA. Regular PLA, PLA+ and META PLA are send to me by Sunlu for the testing. The CF PLA I bought myself to include it in this comparison.
Product pages:
Sunlu filaments: https://www.sunlu.com/collections/fdm-3d-printing
PLA META: https://www.sunlu.com/collections/pla-meta
If you like my work, you could support me by liking, sharing this video but donations are welcome too :-)
Patreon: https://www.patreon.com/mytechfun
Buy me a coffee: https://buymeacoffee.com/mytechfun
Paypal donation link: https://www.mytechfun.com/donation
Download results below this text.
Contents:
0:00 Introduction
1:25 About tested filaments
2:31 Unboxing
4:22 Regular PLA (3D printing)
5:51 META-PLA (3D printing)
7:12 PLA+ (3D printing)
8:15 Carbon Fiber PLA
10:25 Temperature towers side-by-side
10:50 Tensile (pulling) test
11:41 Layer adhesion test
12:34 Shear test
13:18 Bending test
14:08 Torque (twist) test
15:11 Impact test (IZOD)
16:39 Creep test
18:34 Temperature test
19:50 Hardness
20:41 Results
23:00 Conclusions
#sunlu #3dprinting #pla #plafilament
---
Download files:
---
© 2019
+
mytechfun.com |
Terms of Use