MyTechFun.com
My first experience with 20W diode laser: Atomstack A20 Pro by Creatorally
Title: My first experience with 20W diode laser: Atomstack A20 Pro by Creatorally. Watch on youtube: https://youtu.be/5PdG5CdPZzU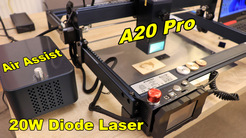 Tags: laser engraving, atomstack,
This is my first experience with 20W diode laser. This is very serious power, able to cut very thick wood but also it can engrave steel too. Air assist kit is mandatory if we want to cut wood, it results sharper cutting and it prevents flames during operation. In video you can find a solution for better positioning of the laser during boundary check.
Tested product: https://creatorallyshop.com/products/atomstack-a20-pro...
Facebook Group: https://www.facebook.com/groups/666727578034322
Instagram: https://instagram.com/creatorallyofficial
Reddit Community: https://www.reddit.com/r/Creatorally/
Amazon shop link: https://www.amazon.es/ATOMSTACK...
Contents:
0:00 Introduction, specs
1:57 Unboxing
4:27 Assembling
7:04 About air pump
7:50 Turning ON, LaserGRBL
8:41 Setting the focus
9:14 Engraving wood
10:19 Offline engraving
10:58 Grayscale image
11:27 Engraving air/no air
11:59 Cutting wood
13:27 Cutting acrylic
14:16 Engraving steel
15:12 Brilliance laser ink
17:20 Conclusions
19:13 Solution for positioning
20:34 Last thoughts
#creatorally #atomstack #laserengraver #laserengraving #20wlaser
---
Download files:
No downloadable files for this video.
---
© 2019
+
mytechfun.com |
Terms of Use