MyTechFun.com
Two Trees TR2 Pro Laser Rotary module review - for engraving cylindrical or spherical parts
Title: Two Trees TR2 Pro Laser Rotary module review - for engraving cylindrical or spherical parts. Watch on youtube: https://youtu.be/Ih-GjL7EPEM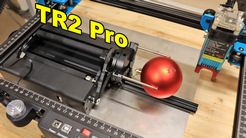 Tags: laser engraving, twotrees,
TR2 Pro by Two Trees is a rotary module for holding cylindrical or spherical parts during engraving. It is a replacement for Y axis of the laser engraver. Very universal product, 4 in 1, but needs a better user manual.
Product links:
TR2 Pro: https://shrsl.com/3ufjf
Two Trees Christmas giveaway activity:https://gleam.io/5nIgC/christmas-wish-list
Engraver from the video TTS-55: https://youtu.be/8YIPKHZnk5w
Contents:
0:00 Introduction to TR2 Pro
1:50 Unboxing
3:13 Installing leg extenders
3:48 Wiring
4:35 Rollers (Cylindrical cardboard)
6:26 Rollers + support Coffee mug
8:14 Chuck (wood cylinder)
9:25 Chuck + suction cup (spheres)
11:15 Chuck (ring)
11:46 Conclusions
#twotrees #tr2pro #laserengraving
---
Download files:
No downloadable files for this video.
---
© 2019
+
mytechfun.com |
Terms of Use