MyTechFun.com
How to upgrade the firmware on Ender-5 S1 3D printer? (And why to wait with it)
Title: How to upgrade the firmware on Ender-5 S1 3D printer? (And why to wait with it). Watch on youtube: https://youtu.be/01k-r0a-0v0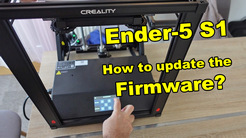 Tags: 3dprint, creality, ender5,
This is add-on video to my Ender-5 S1 review. In that video I mentioned that homing of the Z axis should be better if it uses the CR-Touch and not the bottom limit switch. I got several tips, that new 1.0.6 firmware should fix this (but so far it has other errors). So, let's test it.. In video you can see a method how to reduce the noise from the buzzer and how to make interting of the filament more smoother.
The review video: https://youtu.be/ihpeVAKghE0
Product page: https://www.creality3dofficial.com/products/ender-5-s1-3d-printer
Contents:
0:00 Introduction
1:45 Firmware updating process
4:24 Chamfering the PTFE tube
5:20 Quieting the buzzer
5:44 Final words
#creality #ender5 #3dprinting #3dprinter #ender5s1
---
Download files:
No downloadable files for this video.
---
© 2019
+
mytechfun.com |
Terms of Use