MyTechFun.com
TinkerCAD practice No1
Title: TinkerCAD practice No1. Watch on youtube: https://youtu.be/5oHuJN0HS4U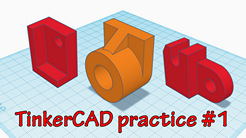 This video I created primary for my students (basics of mechanical engineering and drawing), so they can easier understand objects from their workbook. I recorded the full process: from designing to 3D printing, so it may be useful practice for Autodesk TinkerCAD, one of the easiest CAD software.
In this work there are 3 objects.
Contents:
Object #1: 00:27
Object #2: 01:38
Object #3: 03:19
STL files can be downloaded below this text.
List of all videos for my students from Szent István University (SZIU):
http://www.mytechfun.com/videos/sziu
---
Download files:
---
© 2019
+
mytechfun.com |
Terms of Use