MyTechFun.com
So, is it really faster? Creality Sonic Pad test with Ender-5 S1
Title: So, is it really faster? Creality Sonic Pad test with Ender-5 S1. Watch on youtube: https://youtu.be/cv8lf0eTZbw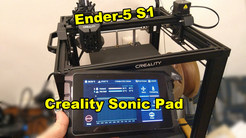 Tags: 3dprint, creality, sonicpad, review, klipper,
Sonic Pad by Creality is a tablet which we can connect to 3D printer and with it we can get higher printing speeds with without losing the quality. It is Klipper based and it is preconfigurated for most of the Creality printers.
In this video it is tested with Ender-5 S1 cubic frame cartesian 3D printer.
Buy Creality Sonic Pad in Creality Store: http://bit.ly/42z0VvX
Contents:
0:00 Introduction
3:20 Printing with stock Ender5 S1
6:57 Unboxing, setup
11:14 Printing using Sonic Pad
15:24 Final thoughts
#creality #crealitysonicpad #sonicpad #3dprinting #klipper
---
Download files:
No downloadable files for this video.
---
© 2019
+
mytechfun.com |
Terms of Use