MyTechFun.com
3DMakerPro Mole 3D scanner review - a great scanner for mid-size objects
Title: 3DMakerPro Mole 3D scanner review - a great scanner for mid-size objects. Watch on youtube: https://youtu.be/1sZjSsa4W7c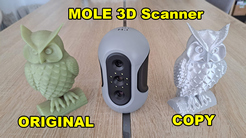 Tags: 3dscan, 3dmakerpro, mole, review,
Mole is the newest 3D scanner by 3DMakerPro, a great little scanner for mid-size objects. Best results we can get if we use it in combination with a turn table (available in premium or luxury kits).
3D MakerPro site (affiliate link): https://shareasale.com/u.cfm?d=1022191&m=139161&u=3367285&afftrack=
$15 OFF Coupon Code Only for Mole: MO15
$10 OFF Coupon Code Sitewide: Save10
Scanning in handheld mode requires some practice and an object rich in geometry, so those 200x100mm frames can be connected with each other.
Contents:
0:00 Specifications
2:25 Unboxing
3:30 The first object
3:53 Software
4:08 Small figure - Table scan
4:41 Table scan - 2 passes
5:05 Owl - from 3D scanning to 3D printing
7:09 Egg holder (table+handheld)
7:47 Thermometer - table scan, 3 passes
8:26 Shoe - table+handheld
9:02 Glass - table scan
9:52 Handheld scan (horse toy)
11:14 Scanning a face (handheld)
12:11 Final thoughts
#3dscanning #3DMakerPro #Mole #3dscanner
---
Download files:
---
© 2019
+
mytechfun.com |
Terms of Use