MyTechFun.com
The most powerful laser I tested so far: Longer Laser B1 30W
Title: The most powerful laser I tested so far: Longer Laser B1 30W. Watch on youtube: https://youtu.be/8xMBFByWqJo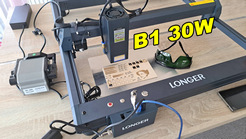 Tags: laser engraving, longer3d,
The B1 30W by Longer 3D is the most powerful diode laser I tested so far on Mytechfun channel. It has several great solutions too. The main problem with this prototype unit is the air assist system which is too weak.
Product page (affiliate): https://s.zbanx.com/r/cqzMsJcOmhmt
New users who subscribe to longer website can get $20 discount, and buy it at $979.99
In video I forgot to metion, in LaserGRBL the pump can be turned ON by M8 command and turned OFF with M9. If you don't want to type, you can create a custom buttons too.
Contents:
0:00 Introduction, specifications
0:54 About safety
1:14 Unboxing
2:36 Assembling
7:22 Engraving wood
8:22 Grayscale image engraving
5:59 Cutting 3mm plywood
9:25 Air assist testing
10:50 5mm plywood cutting
11:15 Cutting MDF
11:45 Cutting black acrylic
12:17 Engraving aluminum
12:48 Engraving stainless steel
13:36 Conclusions
#longerlaserb1 #longerlaserb130w #laserengraver #laserengraving #longer3d #diodelaser #30wlaser
---
Download files:
No downloadable files for this video.
---
© 2019
+
mytechfun.com |
Terms of Use