MyTechFun.com
Great replacement for Octoprint: Mintion Beagle V2 camera for 3D printing
Title: Great replacement for Octoprint: Mintion Beagle V2 camera for 3D printing. Watch on youtube: https://youtu.be/3Aesk8oPlVo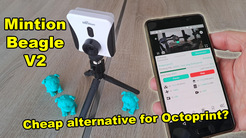 Tags: 3dprint, mintion, beagle,
Miontion Beagle V2 camera is a cheap and simpler alternative to the Octoprint (but with less possibilities). With this camera we can start the printing over the WiFi connection (no need for SD card file transfer) and also, we can monitor the printing over the smartphone and if necessary, we can Pause or Stop the printing.
Shopify: http://bitly.ws/Hkrm (10% discount code: 3DPRINTERCAMERA)
Mentioned in the video:
Beagle camera V1: https://youtu.be/vBNFGzo5qe0
STL files for holders (for V1):
For GoPro tripod: https://www.printables.com/model/386164-mintion-beagle-holder-for-gopro-mounts
For threaded insert: https://www.printables.com/model/273615-mintion-beagle-camera-holder
Contents:
0:00 Introduction
2:03 Unboxing
3:30 Connection
5:10 From smartphone
5:51 From computer
7:18 3D printing (time lapse codec test)
10:55 Clean Timelapse video
12:08 Conclusions
#3dprinting #beaglecamera #3dprintingcamera
---
Download files:
No downloadable files for this video.
---
© 2019
+
mytechfun.com |
Terms of Use