MyTechFun.com
How to start with QCAD
Title: How to start with QCAD. Watch on youtube: https://youtu.be/SqpxDyzkR9U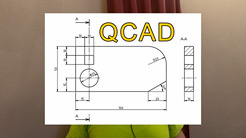 In this video you can see how to start with a QCAD. This video is primary created for my students, they have to draw their first homework in QCAD. I am installing the community (free) edition, setting the layers for different line types and drawing and dimensioning a simple object.
List of all videos I created for my students:
http://www.mytechfun.com/videos/sziu
QCAD website:
https://qcad.org/en/
---
Download files:
No downloadable files for this video.
---
© 2019
+
mytechfun.com |
Terms of Use