MyTechFun.com
Two color 3D printing with single extruder and manual filament changes
Title: Two color 3D printing with single extruder and manual filament changes. Watch on youtube: https://youtu.be/W3z_b52lSIA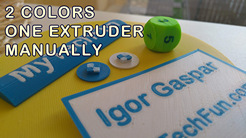 Tags: 3dprint, two color 3d printing, multicolor 3d printing,
Manual two color 3D printing in same layer with one nozzle and one extruder is possible, not easy, but possible. Don't mix this method with simple color change on certain layer and everything in that layer will be printed in same color. This method can be used for color printing in vertical or curved surfaces too. In this process I am explaining the design, slicing and 3D printing. First two printings are not perfect, only in last object (mini cube) I show the final settings which worked for me.
All STL files used in this video can be downloaded below this text. Download them and start experimenting. If you find better settings, please, let me know.
Time stamps:
Dice: 1:44
Badge with wipe tower: 12:12
Business card (with and without wipe tower): 16:44
Mini cube with final settings: 21:20 - Conclusions: 26:15
Used software and hardware: Fusion360, PrusaSlicer 2.1, Prusa MK3
---
Download files:
---
© 2019
+
mytechfun.com |
Terms of Use