MyTechFun.com
About FDM 3D printed face masks for air filtration
Title: About FDM 3D printed face masks for air filtration. Watch on youtube: https://youtu.be/fFOc6d4Ry9M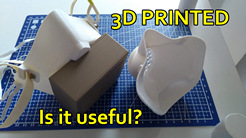 Tags: 3dprint, face mask, air filtration mask,
In this video I would like to talk about filters and air filtration masks created with FDM 3D printers. I noticed a lot of questions and missunderstandings connected to 3D printed masks, so I decided to share in this video my experience from using 3D printed objects in food industry. Topics: About 3D printed masks, sealing and fitting to face, about filters, bacterias between layers, solution for cleaning.
My video about food safe 3D printing:
https://youtu.be/lFtMIo00tfY
Sources and links mentioned in the video:
HEPA Covid Coronavirus Face Mask by Kvatthro:
https://www.thingiverse.com/thing:4222563
Thingiverse, make, by Saadcaffeine from flexible filament:
https://www.thingiverse.com/make:776195
Research Gate,
Devies et al. (2013) Testing the Efficacy of Homemade Masks: Would They Protect in an Influenza Pandemic?
https://www.researchgate.net/publication/258525804...
SmartAirFilters.com: What Are The Best Materials for Making DIY Masks?
https://smartairfilters.com/en/blog/best-materials-make-diy-face-mask-virus/
3m.com: Masks vs. Respirators
https://www.3m.com/3M/...
Air purifiers and coronavirus:
https://www.alencorp.com/blogs/articles/air-purifiers-and-coronavirus
---
Download files:
No downloadable files for this video.
---
© 2019
+
mytechfun.com |
Terms of Use