MyTechFun.com
3D printing bolt and thread in horizontal or vertical position - strength test
Title: 3D printing bolt and thread in horizontal or vertical position - strength test. Watch on youtube: https://youtu.be/ZiQek0wei1g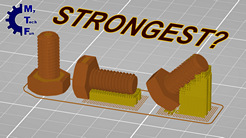 Tags: 3dprint, strength test, 3d printed bolts,
In most cases bolts and threads are 3D printed in vertical position because in that case, they don't need a support. But I wanted to test is 3D printed machine screw in horizontal position stronger. In this video I tested 3D printed M10 PLA bolt for pulling test, torque and shear stress.
In my experiments I could measure only ultimate strength or friction point, but not the yield strength (elastic limit).
Limitation in my test was 140 kg, that's why I printed M6 too for two additional tests too (M10 didn't break).
Contents:
0:18 Introduction
1:29 Load types
3:26 Designing bolts, threads
4:34 Slicer
5:07 3D printing bolts
5:49 Preparing for test
8:09 Pulling test M10
10:19 Shear test M10
11:42 Torque test M10
14:05 Stress calculation
15:33 Additional test M6
16:41 Results
17:07 Conclusion
Materials and methods:
Prusa MK3 3D printer, 0.4mm nozzle, 0.15mm layer height, 220-225°C temperature (too much for PLA, but I wanted strongest layer adhesion). Printed with 5 perimeters and 100% infill.
3D printing material property table:
https://www.simplify3d.com/support/materials-guide/properties-table/
BMI index mentioned in video:
http://10kg.org/
Support my work:
https://www.patreon.com/mytechfun
or
http://www.mytechfun.com/donation
---
Download files:
No downloadable files for this video.
---
© 2019
+
mytechfun.com |
Terms of Use