MyTechFun.com
How to 3D print business card (Fusion 360 or Tinker cad)
Title: How to 3D print business card (Fusion 360 or Tinker cad). Watch on youtube: https://youtu.be/ALZfoXesgzY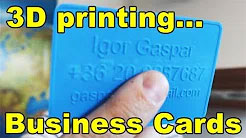 Tags: 3dprint, prusa, business card, fusion360, how to,
In this video I will show you how to design and 3D print business cards.
Design process is shown in Fusion 360 and (simplified version) in Tinkercad.
Also I calculated the cost of these business cards (only material costs). 3D printing with Prusa MK3 3D printer.
In my next video I will try to 3D print two color business card, since mono color may be hard to read.
Speed of video where I designed the card in Fusion 360 and Tinkercad is 4x. In Youtube you can slow down the video if you need to see better those instructions (Settings / Speed / 0.25)
Link to business card printed in two colors video: (it's in progress so far..)
---
Download files:
---
© 2019
+
mytechfun.com |
Terms of Use