MyTechFun.com
3D printed worm gears designed in Fusion 360
Title: 3D printed worm gears designed in Fusion 360. Watch on youtube: https://youtu.be/-6GqEHRKFXQ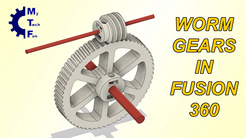 Tags: 3dprint, worm gears, fusion360, product design,
Worm Gears has few advantages compared to spur gears, but so far, there is no automatic tool in Fusion 360 to add worm drive to our design. For spur gears we can use ADD-IN SCRIPT and those gears can be part of our design with only few clicks. In this video I show step-by-step tutorial how to design a worm gears (worm screw and wheel) in Autodesk Fusion 360. At the end of video, I 3D printed and tested it.
This method is not perfect, probably printed worm screw or wheel cannot be used with standard gears, but if we 3D print both parts, they can work together without problems. I noticed that these 3D printed gears are much noisier compared to spur gears.
Contents:
0:05 - About Worm Gears
4:01 - Design in Fusion 360
12:50 - 3D printing
14:36 - Conclusions
STL and F360 source files can be downloaded at bottom of this page.
Sources used in the video:
https://en.wikipedia.org/wiki/Worm_drive
3D printed top toy (big pitch angle):
https://youtu.be/geReOCHCWkg
Gear diameters image:
https://khkgears.net/new/gear_knowledge/...
Support my work over PayPal or Patreon:
http://www.mytechfun.com/donation
---
Download files:
---
© 2019
+
mytechfun.com |
Terms of Use