MyTechFun.com
Unboxing of ELEGOO Arduino UNO Super Starter Kit
Title: Unboxing of ELEGOO Arduino UNO Super Starter Kit. Watch on youtube: https://youtu.be/wpndJPgOdIw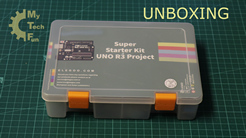 Tags: arduino, elegoo, unboxing,
Best way to start learning Arduino is to buy some starter kit with tutorials which use only included hardware from the kit. My favorite is Elegoo UNO Super starter kit in combination with Sensor kit (I bought them, not sponsored video). Elegoo contacted me and asked for unboxing of their newest Arduino starter kit. In this video you can find few words about my sets, content of the CD and downloaded files, unboxing and one basic project.
You can buy it here (NOT affiliate):
ELEGOO UNO Super Starter Kit: https://amzn.to/34UMHZc
Contents:
0:00 Introduction
0:46 What is Arduino?
2:50 My Arduino starter kits
5:24 Contents of CD
7:33 Unboxing
22:38 First project - Blinky
27:26 Conclusions
Support my work over PayPal:
https://www.mytechfun.com/donation
or over Patreon:
https://www.patreon.com/mytechfun
Link to Arduino videos on my channel:
https://www.mytechfun.com/videos/arduino
---
Download files:
No downloadable files for this video.
---
© 2019
+
mytechfun.com |
Terms of Use